Marine Rescue Port Macquarie rescue three people from a sinking boat south of Crescent Head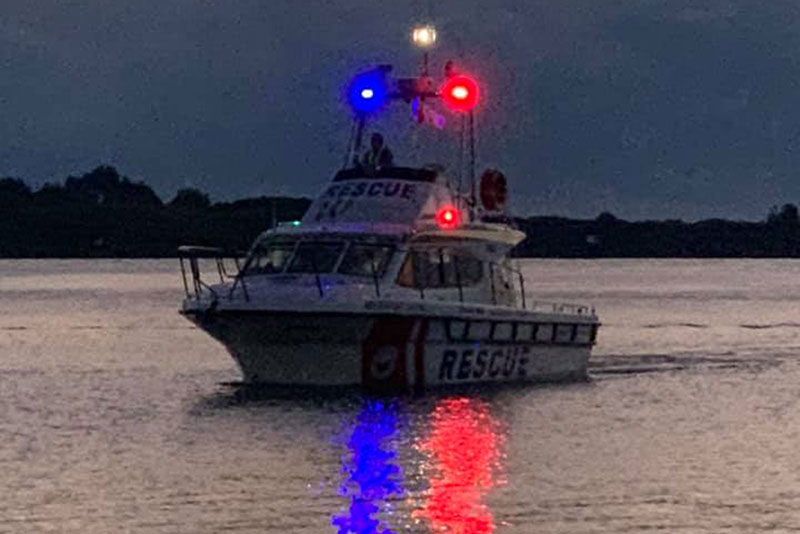 A dramatic overnight sea rescue has resulted in a boat sinking and three people being rushed to hospital with spinal and chest injuries. Shortly after 1am on Sunday, April 14, Marine Rescue Port Macquarie received an emergency call for help from a boat taking water somewhere between Crescent Head and Port Macquarie.
On board the sinking vessel were three men aged 30, 33 and 67 years old. It is believed the boat had hit a reef at speed but at this stage the cause of the collision is unknown.
Greg Davies, unit commander for Marine Rescue Port Macquarie said volunteers were immediately dispatched to help. "Garry White in the radio base at Town Beach got the call for help at 1.07am after a boat had collided with something in the ocean," Mr Davies said.
"In our initial contact the three people on board were reported to have severe injuries including suspected punctured lungs, spinal injury, broken bones, dislocated shoulder and facial injuries. There was extensive damage done to the inside and outside of the boat."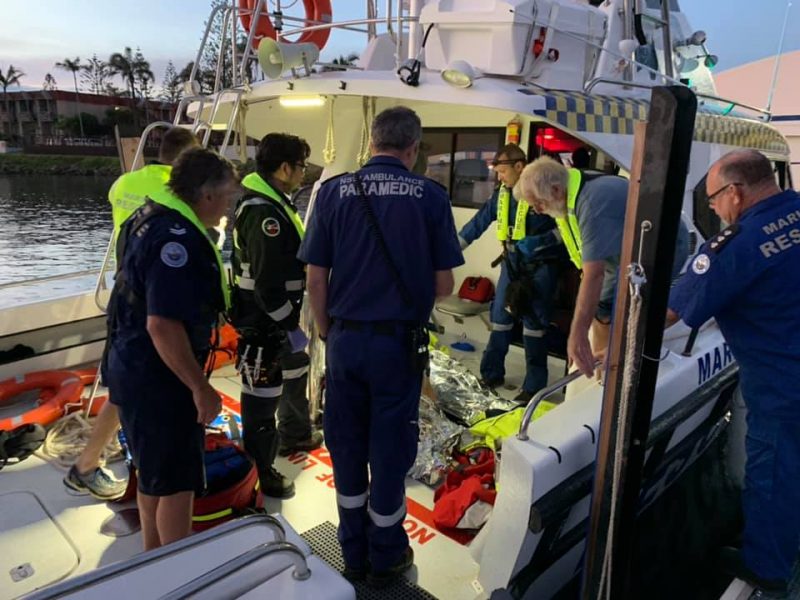 "Unfortunately we had a bit of trouble finding the vessel due to those on board being unsure of their location. Our vessel, PM 30, spent nearly an hour searching for them however after they deployed their Emergency Position Indicating Radio Beacon (EPIRB) we were able to find them."
Greg Davies, unit commander, said initially the crew decided to try and tow the boat back to Port Macquarie but that soon became untenable.
"When we arrived it was decided that two of our crew, Bill Richardson and Chris Condon, would stay with the injured crew on their vessel and Marine Rescue would tow the vessel back to land," he said.
"At this point our other vessel PM 20 was waiting for the paramedic and doctor from the Westpac Rescue Helicopter to arrive in Port Macquarie to bring out to sea along with a water pump. Quickly we realised the boat was taking more and more water so the decision was made to abandon ship and all move onto PM 30 to continue triage first aid care. Shortly after PM 20 arrived and the doctor and paramedic took over medical treatment."
A Westpac Rescue Helicopter spokesperson confirmed a Critical Care Team had been flown to Port Macquarie to help the injured fishermen.
NSW Ambulance Media said one man was taken to Port Macquarie Base hospital with spinal injuries, another with chest injuries and the third with body lacerations. About 10.30am the 30-year-old man was airlifted to the Royal North Shore Hospital in a stable condition for further treatment.
Greg Davies, unit commander, praised Marine Rescue volunteers in the radio base and out at sea for their work. "A call out like this one goes to show our repetitious training works and that when we are called to an emergency our volunteers do their job without fault," he said. "Credit must go to skippers Reg McGlashan and Rob Breskal and their crew along with Graham Gibbs as watch officer and the radio base crew. Without the quick response from our crew this call out would have had a very different outcome."
"During the sinking of the vessel thousands of dollars worth of Marine Rescue medical equipment went down with the vessel, including spinal board, AED and the entire trauma kit."
"We really did save lives on the water overnight and I am extremely proud of the team involved. It is also a timely reminder for all those heading out to sea to ensure you have working navigational and radio equipment so that if something happens we are able to get help to you quicker and can literally save your life."
Credit: Laura Telford – Port News